Web3D
---
Idea
Force Work Power is a virtual laboratory, designed to illustrate the relationship between mass, distance and time. Users can specify different values for each variable and are then shown how the result in the form of Force, Work and Power.

---
How to use:
Cick on the link below, keep in mind the presentation may take a moment to load.
Once the presentation has started click on the help button for instructions.
If the presentation doesn't start, you may be experiencing plugin difficulties. For help check our Tech Support Page.>>
Click here to start: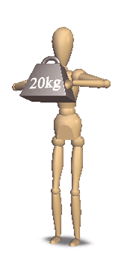 ---
About:
This project was produced at Cycore North America for the educational services group Curriculum Services. It is a demonstration of the concept of virtual laboratories.
I am indebted to the incomparable Johnny Leung for creating the character animation and mannequin model for this project.