Web3D
---
Description
When this presentation was created, Cult3D was viewed as primarily an object viewing format; this demonstration proves that the Cult3D technology is capable of immersive environments and character animation as well.

---
How to use:
Cick on the link below, keep in mind the presentation may take a moment to load.
Once the presentation has started follow the instructions on the page.
If the presentation doesn't start, you may be experiencing plugin difficulties. For help check our Tech Support Page.>>
Click here to start: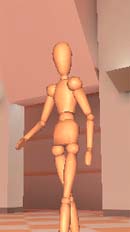 ---
About:
This demonstration was created for Worldof3D.com, character animation provided by Johnny Leung.