Web3D
---
Description
This virtual mall was built from a library of VRML parts developed at Ittworks! Inc. This "mall builder" library was intended to be the creative source for a 3D e-commerce application being developed for one of our clients.
---
VRML Mall
The store builder components that make up these models were created using the scalable "lighting to texture" method that was first used on the GAP virtual store.
The idea of the virtual mall is a sensitive issue in the Web3D community. Some factions view v-malls as an important step to gain buy-in from the retail community and thus fund the development of the technology; others see v-malls as complicating a process that the e-commerce community has spent so much time simplifying.
I'm not going to weigh in with an official opinion, except to say that I don't even like shopping at real malls. Like most new ideas, you never know how good they are until you give them a try.
Click an image to launch the presentation: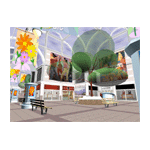 ---
VRML Stores - Quick links
If you don't feel the urge to wander aimlessly around a virtual mall, try these quick links to view the individual stores.
Click an image to launch the model:
---
Cult3D Conversion
For those of you who can't view VRML content, you may have better luck with Cult3D. Recently I converted one of the store VRML models to Cult3D to test the Cult3D's new AutoDesk Viz exporter.
Click the image to launch the model:
---
How to use:
Cick on the links above, keep in mind the presentation may take a moment to load.
Please refer to your VRML browser's documentation for navigating instructions.
If the presentation doesn't start, you may be experiencing plugin difficulties. For help check our Tech Support Page.>>